Rate Inferno 2 Fat Burners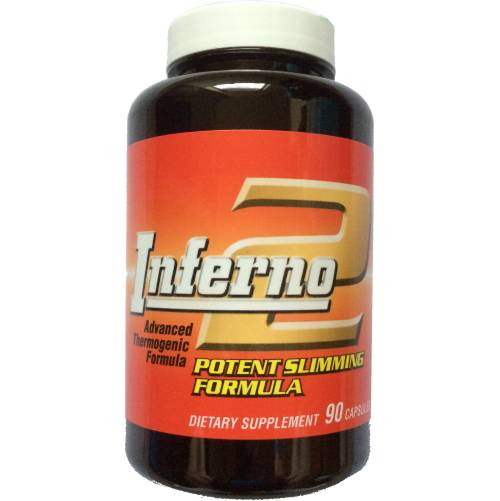 Super high potency thermogenic fat and weight management supplement. Intended to trigger an increase in calorie burn
Feedback
Rated By: Aaron
been taking for about a month, its amazing, having kept to date to how much weight lost as im weight training aswell, but i have lost my bumpy stomach fat tightened all areaschest/biceps and you can really see my abs now did hardly any running ate healthy cheated once a week. awesome product
Rated By: AJ
Great supplement. Suppress my hunger which is exactly what i want!
Rated By: Steve Carroll
The best fat burner I have ever tried. Not a magic potion, but mixed with a good diet and training plan gives that extra bit of help to shift that last bit of stomach fat. Highly recommended as long as you don t mind that typical caffeine edginess buzz.
Rated By: musa from glasgow
inferno 2 rocks, i used this alone with a high fibre diet for a couple of weeks, it woz the best tablet i used,after 2 weeks i used it with la muscle fat burner, even better, but causes very bad diarhoea though combined but u lose alot more weight using inferno 2 with la muscle fat burner
Rated By: Billy
Taken my first tablet, slight discumfort in the stomach area but not too bad feel great lots of energy, this is a great product
Rated By: Danny
I started taking Inferno a while back and lost so much weight in a short amount of time with minimal training. My love handles and face tones and i felt much better. After being off them i returned and bought the Inferno 2. Without doubt the best on the market. Ok when you first start taking them you might feel slightly a little sick and jittery also full of energy however take them first thing and just before an early workout and man do they improve your performance too. Im going to start eating a very strict diet soon to improve results. Absolute must buy for people trying to remove fat quickly and easily. 5*****!!
Rated By: claire
Been taking for 4 days and have lost 2 n half pounds already. Def buy again
Rated By: Mick
Just started taking these, really good, loads of energy. They seem to make me more chatty too, I d be interested to know if anyone else finds the same effect
Rated By: Sajid
Consistently good product. Used lots of other keep coming back to this.
Rated By: Paul
I ve been taking inferno 2 for 1 week. taking 3 tablets per day. Lost 2-3 kg in water seems to be giving me more energy so my workouts are more intense. I do 30mins road or treadmill running and 45 mins weights everday. I do get abit jittery at times and my metabolism seems to by higher. For my 2nd week i am taking 2 pills per day and i will let you know what happens in aweek. But i think it is working.
Inferno 2 Fat Burners Your Say
Always Informed. Sign Up